Hi Everyone:)
Well we made it this far, one more day to go! I am officially done shopping and just have a heap of stuff to wrap (but I LOVE that part). I usually pop in Love Actually, Bridget Jones, Emma and depending how big the heap is, Pride & Prejudice (the BBC Colin Firth version of course). The other shocker is, I even have all of my grocery shopping done,
so basically, I'm good.


If you have found me today because of the lovely blog hop Gayle and Kel have put together, welcome! I wish I had more for you to look at but due to the activities above, not so much :) I do however have some information and pictures of one of our Christmas traditions we partake in every year. Our trip of the canals in Naples, Long Beach to see the Christmas lights. Due to a rare rain storm we just had for almost a week straight, we went by ourselves and kinda ran vs walked. Usually we gather as many family and friends as we can, pack the hot chocolate, coffee, cookies and other treats in the car and head out.

The canals themselves are really cool and the waterways a bit challenging to navigate via boat due to the connection of the Alamitos Bay, Pacific Ocean and the Long Beach Harbor, but well worth it once you find it. I used to live directly across the street and miss this area so much! My doggy Indy grew up running through all of the curves and over the bridges.


The outer waterways
The Canals
They run Traditional Italian Gondolas through the canals at sunset, complete with a bottle of vino, a stripe shirt navigator and some of Italy's finest tunes. That was our Christmas gift last year from our girls...awww. I even know people who have been married on them.


During the day
During the Annual Boat Parade



And finally, this years rainy tour: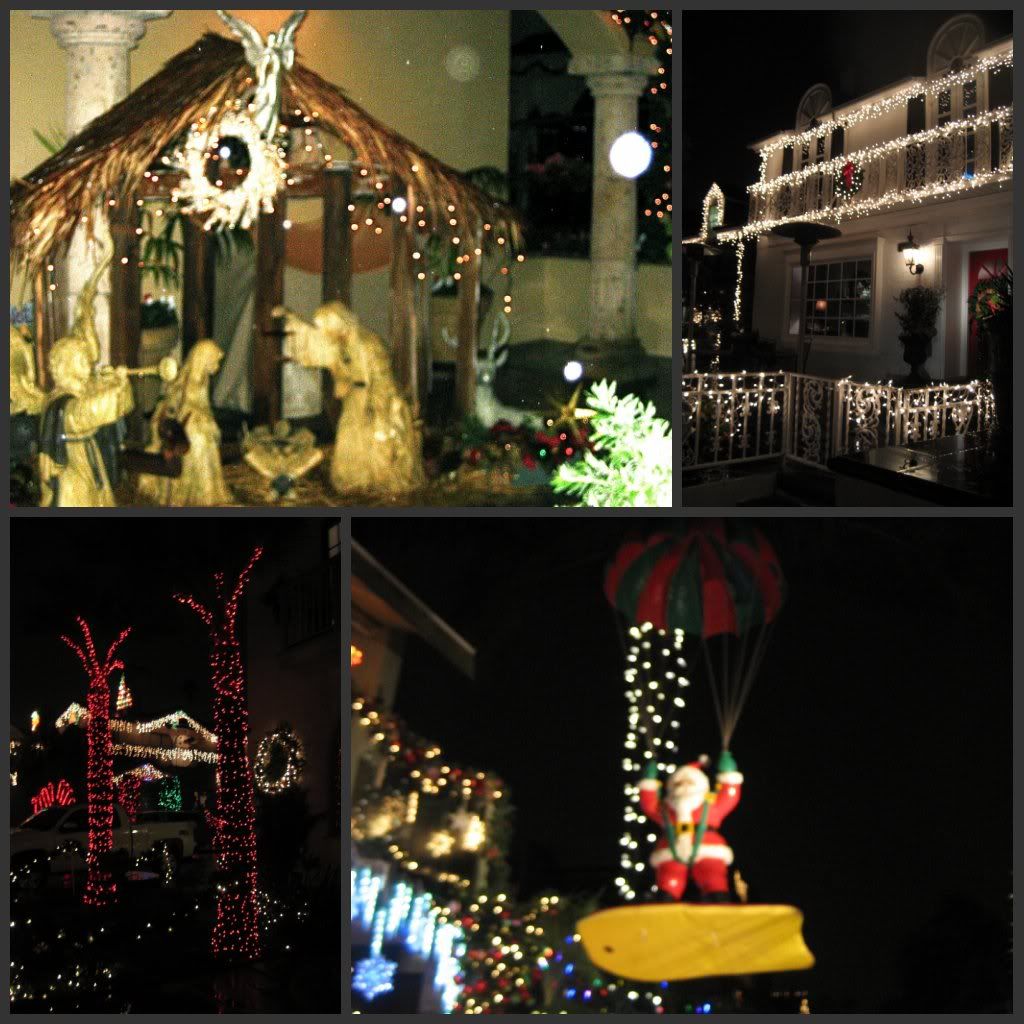 And now a very scary thing
!
If your are following the blog hop or would like to jump in, see the list below. If you are stopping by for the first time, thanks for coming and I look forward to chatting with you as I make my way around to you.For those who visit often, thanks so much, I am glad you return and I am thankful for your friendship.


MERRY CHRISTMAS AND A VERY HAPPY NEW YEAR TO ALL!

Kristin xx

Gayle - Altered Orchid
http://alteredorchid.blogspot.com

Julie - A Creative Journey Through Life
http://julieboeck.blogspot.com
Leanne - My Little Life Of Scrap
http://littlelifeofscrap.blogspot.com

You are HERE :) Kristin - Places, Things & Me
http://rurunews.blogspot.com

Sherry - Sherry's Simple Blog
http://sherrysimpleblog.blogspot.com

Barbara - Baraginie And Co
http://adventuresinyouke.blogspot.com

Diana - The Scrappy Tree
http://thescrappytree.blogspot.com

Michelle - Happenings On This Side Of The River
http://momma-paparazzi.blogspot.com
Kelly - Journal Journeys
http://journaljourneys.typepad.com